"I support marriage between one man and one woman. As Attorney General I can tell you I support the marriage amendment as well as to amend the Iowa Constitution so that the people will have a vote on the marriage issue," said Findley last week of Iowa's marriage-equality law, decided by the state's Supreme Court in 2009. She went on to say, "If it is ever challenged in court I will defend our marriage amendment in court as your Attorney General."
Findley isn't alone in calling for a constitutional convention: Rep. Steve King, three Catholic Churches and Patti Brown, a partner at the Iowa Policy Institute, have all come out to edit out equality in Iowa. Hopefully Findley's remarks will galvanize supporters to counter her campaign and Iowa's residents will realize that Findley's blowing archaic smoke.
Image via Iowa GOP's Flickr.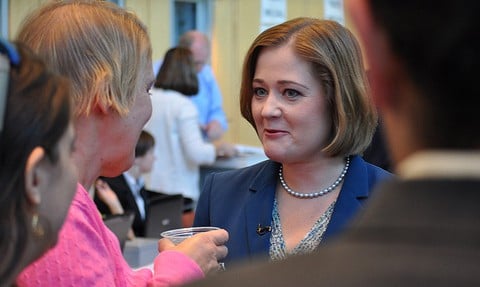 Most midterm candidates have spent their electoral energy stressing "Main Street" economic issues to win over voters. Iowa's Attorney General hopeful Brenna Findley has decided to take another route: she's playing on the tried and true culture war to drum up her Republican base.