Relevant discussion begins around the 11:20 mark, or so.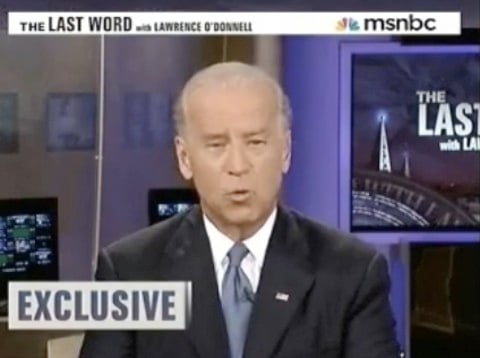 Vice President Joe Biden has never been one to hold his tongue, and his supporters have in the past celebrated his loose lips, which have given us many memorable moments, like the instantly infamous "BFD" remark about health care.
Biden's latest comment, however, may not be endearing: while at a fundraiser Monday for New Hampshire Rep. Paul Hodes, who's running for Senate, Biden insisted that the Democratic base needs to "stop whining" about failed legislation, like health care's mythical "public option" and, I'm sure, gay rights.
The politico later appeared on MSNBC's latest show, The Last Word with Lawrence O'Donnell, to get, well, the last word. He may have ended up digging himself deeper. "There's some on the Democratic base, not the core of it, that are angry because we didn't get every single thing they want," explained the vice president. "We've got a health care bill… But because there was no public option, some of them are so angry, they say, we're not going to participate. They should stop that."
Biden went on to insist, "Those who don't get — didn't get everything they wanted, it's time to just buck up here, understand that we can make things better, continue to move forward, but not yield the playing field to those folks who are against everything that we stand for in terms of the initiatives we put forward."
The Vice President definitely has a point: even if Democrats are upset, aren't they disregarding their American duty if they choose to ignore the ballot box this November, thus leaving a vacuum for opposing parties?
Watch Biden explain himself, AFTER THE JUMP…