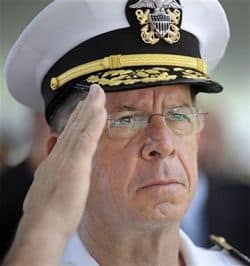 Admiral Mike Mullen, the Chairman of the Joint Chiefs of Staff, restated last night that he personally supports a repeal of Don't Ask, Don't Tell, although only after an officially Pentagon review has been completed.
"I am very clear where I was on February 2 and where I am today," the venerated military leader said on Monday, reiterating a statement he made earlier this year.
"This is my personal view. I struggled greatly with the fact that we asked people in an institution that values integrity, which is who we are, that we would ask individuals to show up everyday and basically lie. So my position on that hasn't changed at all."
Mullen made sure to point out, however, that he wants the Pentagon, and then Congress, to lead the way on the matter, rather than just going for a willy-nilly repeal.
"If I could pick, and I can't, the way this would happen I would like to finish the review and have the review then inform the legislative process," explained Mullen. "I'm not in charge of the legislative process. It is really up to Congress to move that through."
Yeah, because they're doing such a great job.