Per Judge Virginia Phillips ruling last week declaring "Don't Ask, Don't Tell" unconstitutional, attorneys for the Log Cabin Republicans have filed their proposed judgment and request for permanent injunction on the ban on the policy.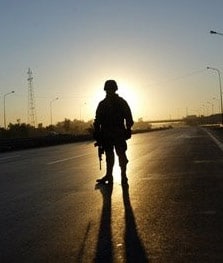 Here's part of the filing:
IT IS FURTHER ORDERED that the defendants the United States of America and the Secretary of Defense, their agents, servants, officers, employees, and attorneys, and all persons acting in participation or concert with them or under their direction or command, are permanently enjoined from enforcing or applying the statute and policy known as "Don't Ask, Don't Tell," including any implementing regulations, against any person under their jurisdiction or command, and from taking any actions whatsoever, or permitting any person or entity to take any action whatsoever, against gay or lesbian servicemembers, or prospective servicemembers, that in any way affects, impedes, interferes with, or influences

their military status, advancement, evaluation, duty assignment, duty location, promotion, enlistment or reenlistment based upon their sexual orientation; and they are further ORDERED to immediately suspend and discontinue any investigation, or discharge, separation, or other proceeding, that may have been commenced under 10 U.S.C. § 654 and/or its implementing regulations on or prior to the date of this Judgment.
Karen Ocamb has the full text.
Lawyers for the Justice Dept. have seven days to respond to the filing. An appeal is expected.
Justice Department officials could appeal the ruling and any court-ordered injunction.

On Wednesday, U.S. Sens. Kirsten Gillibrand (D-N.Y.) and Mark Udall (D-Colo.) wrote a letter to U.S. Atty. Gen. Eric Holder urging him not to appeal the decision. They noted that President Obama, Defense Secretary Robert M. Gates and Adm. Mike Mullen, chairman of the Joint Chiefs of Staff, all have called for the law to be repealed.

The policy "harms military readiness, as well as the morale and the cohesiveness of our armed forces, at a time when our military's resources are strained and unity is critically important," the senators wrote.

Log Cabin Republicans attorney Dan Woods, from the White & Case law firm in Los Angeles, said leaders of the organization have been invited to discuss the case with members of the Obama administration in the next few days.

Justice officials and other legal experts have questioned whether the federal judge has the legal authority to issue an injunction prohibiting the policy from being enforced worldwide throughout the military, as opposed to just her judicial district in California.

Woods, however, argued that past federal court rulings show that Phillips clearly possesses that authority.