Leading Russian gay activist Nikolai Alekseev is safely back in Moscow, and has written an account of his harrowing abduction by captors thought to be with Russia's secret police. Alekseev says the captors harassed, threatened, and possibly drugged him.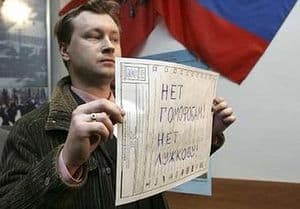 Early Saturday morning Alekseev left the following message on Facebook:
"My dear friends, I just entered Moscow. Thank you to all of you for support. All I want now is to brush my teeth and to shave. I will try to describe all that happened tonight! I never thought so many people care for me, it brings tears to my eyes."
Alekseev has written the personal account of his abduction HERE (translated via Google).
"A spokeswoman for the airport told Russian news agencies that Alekseyev was detained after refusing to take off his shoes at the security check. The activist rejects this account and claims airport security officials arbitrarily detained him for two hours before handing him over to a group of unidentified men in plainclothes. He told RFE/RL that he was then driven to a police station in Kashira, a small town some 100 kilometers south of Moscow, where he spent the next two days."
In his personal account, Alekseev notes that he discovered his location by using an iPad, which the authorities had not taken from him.
"[In Kashira], he says he was threatened, harassed, and possibly drugged. 'The first night, I slept on a chair and a table. I spent the second night on a kind of banquette. They gave me water, but I think it was laced with something because my reactions were very slow and I felt completely disoriented. I was given very simple food like biscuits,' Alekseyev says. Conflicting reports had emerged in the wake of Alekseyev's mysterious disappearance. While the activist did not respond to repeated calls to his mobile telephone, news agencies said they had received text messages from him saying he had been taken to Belarus and intended to seek political asylum there. Alekseyev denies such intentions and says the text messages were sent by his captors from his confiscated telephone."
During his abduction, Alekseev was pressured to withdraw a complaint he had filed with the European Court of Human Rights over Moscow's banning of Gay Pride parades.