Russia's leading gay activist, Nikolai Alekseev, was arrested at the Moscow airport as he was about to board a plane to Geneva. His whereabouts are unknown and Russian officials have offered no explanation for his arrest.
UK Gay News reports: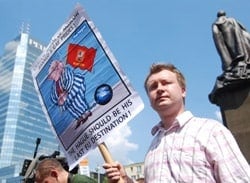 "In a statement from gay activists in Moscow, just received by UK Gay News, the Russian border police asked Swiss Air Lines to cancel his boarding pass and to offload his luggage from the plane, causing a 30-minute delay to the flight's departure. '[Mr. Alekseev] had time to call a friend as well as the news agency Interfax,' the statement read. 'Reports of his arrest have been republished in the evening through the Russian media. As he told his friends and the media, no explanation was given to him on the motive of his arrest. A group of three activists from GayRussia led by Nikolai Baev went to the airport to try to locate Nikolai. The airport police told them that Nikolai was not retained by the airport police and one police officer suggested that he was being interrogated by the FSB (ex-KGB) at its headquarter in Lubyanka (Central Moscow).'"
The Federal Security Service of the Russian Federation (FSB) is refusing to answer questions.
The activists of GayRussia applied yesterday for a picket scheduled for Sept 21 on the anniversary of Moscow Mayor Luzhkov with the title "Luzhkov – Gomiki. The English translation for Gomiki is Faggot. The activists wanted to protest a Court decision which dismissed their complained against the Mayor who said that gays are "gomiki" in a TV interview in June 2009.

A recent law passed by the Russian Parliament and signed-off by President Medvedev in July of this year allows the FSB to echo Soviet practices. The punishment for ignoring a warning was unclear, but 15-day jail sentences are envisaged for "obstructing an FSB officer's duties".

This new provision was denounced by human rights activists as an attempt to prevent human rights activists to organize rallies and public protest by preemptively arresting them.

The headquarter of the Moscow Police said tonight to Human Rights activists Ludmila Alekseeva that Nikolai Alekseev is not registered within their database. The FSB denied to answer tonight. No more information is expected before tomorrow morning.

Under Russian law, enforcement authorities have no right to detain people for long periods without charges and without giving reasons for the detention, but this time has already expired at 10pm Moscow time.