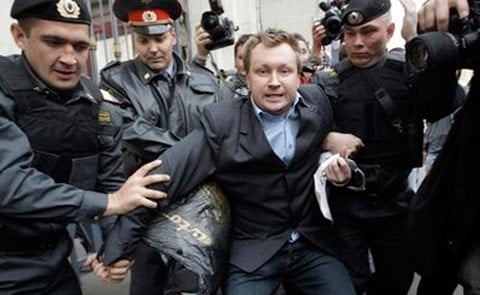 UK Gay News reports that eleven activists including Nikolai Alekseev have been arrested during a protest outside Moscow City Hall:
"They were taking part in a demonstration against the homophobic mayor of Moscow, Yuri Luzhkov, and his 'faggots' remark which a Moscow court ruled recently was not hate speech. Those arrested were said to have chained themselves to the railings outside City Hall. Also reported arrested was a reporter from Agence France Presse.  She was seen by activists being hauled into a police van.  But Mr. Alekseev told UK Gay News later that she was not taken to the police station and was presumably released without charge. The eleven activists were taken to the Tverskoy Police Station in Moscow. Mr. Alekseev said that he was injured during his arrest. He was speaking by telephone from inside a police van from which  other  activists were heard chanting 'happy birthday Mayor Luzhkov' – it is the Mayor's 74th birthday today."
"The two dozen demonstrators had been protesting the policies of Moscow Mayor Yuri Luzhkov, who has called homosexuals 'satanic' and thwarted attempts to hold a gay pride rally in the city. Police detained most, if not all, of those participating in Tuesday's rally, which was held without a required permit near city hall. The activists handcuffed themselves to a monument for the 13th-century Russian prince who founded Moscow, displayed a papier-mache mummy resembling Luzhkov and unfurled posters ridiculing the mayor and his billionaire wife, Yelena Baturina. The activists said they objected to Luzhkov's recent use of the word 'fag,' and a court's subsequent ruling that the word could not be deemed offensive."
Alekseev refused to back down from holding the rally despite being abducted by men thought to be with the Russian secret police over the weekend.