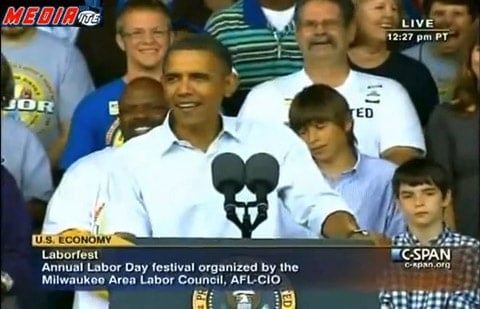 Discussing his $50 billion jobs initiative, Obama veered from the teleprompter to address his critics in a Labor Day speech in Milwaukee.
CNN's take: "The line was a rare departure from a president who normally sticks close to the text of his speech and may forecast a more aggressive tone on the part of Obama as the midterms approach."
CBS News: "White House Press Secretary Robert Gibbs said today he had not spoken with Mr. Obama about the 'dog' remark. He added, however, 'If you look at some of what is said about the president and match them up against the facts, on occasion dogs get better representation.'"
Two months before the midterms, poll numbers for Obama and the Democrats are looking grim:
"Two months before the 2010 midterm elections, likely voters now favor the Republican over the Democratic candidate in their congressional district by 53-40 percent, the widest GOP margin on record in ABC News/Washington Post polls since 1981… majority, 52 percent, now disapproves of the way Obama is handling his job overall, another first in ABC/Post polls. Intensity increasingly is against him, with those who disapprove 'strongly' outnumbering strong approvers by 14 points. A record 57 percent rate him negatively on handling the economy, "strongly" so by an even wider margin, 2-1."
Watch, AFTER THE JUMP…