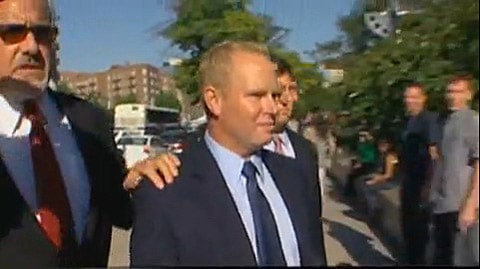 Former JetBlue flight attendant Steven Slater appeared in court in NYC this morning, escorted by gay publicist to the stars Howard Bragman.
"Mr. Slater steeled himself for the storm that awaited him after the hearing before Judge Gerald. He took a deep breath and headed down the courthouse steps, answering no questions from reporters who surrounded him. He was escorted by court officers who shepherded him between two parked cars and into a double-parked sport utility vehicle. Mr. Horwitz added a fresh twist to Mr. Slater's work history: After saying that Mr. Slater had "a longstanding, well-regarded reputation in the industry" — the airline industry — Mr. Horwitz said that Mr. Slater had "voluntarily resigned" from JetBlue on Sept. 1. As for whether he was guilty of the charges, his publicist, Howard Bragman, answered, "That's for the court to decide." Mr. Bragman did not answer when asked whether Mr. Slater had mental health concerns or drug or drinking problems."
A plea deal is reportedly underway.
Watch raw video of Slater and Bragman arriving at court, and the post-court press conference, AFTER THE JUMP…