Pedophile-enabler Pope Benedict has attacked same-sex marriage again, Bloomberg reports: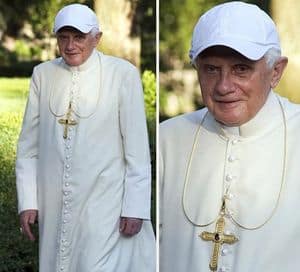 "Benedict, speaking before paying a historic visit to the U.K. later this week, said the Roman Catholic Church 'cannot approve of legal initiatives that imply a re-evaluation of the life of the couple and the family.' The pope, in a reference to legalized marriage among homosexuals, said such laws 'contribute to the weakening of the principles of natural law' and to 'confusion about society's values.' He made his remarks today while receiving Germany's new envoy to the Holy See at his summer residence in Castel Gandolfo south of Rome, according to a transcript posted on the Vatican's website."
On his UK visit, the Pope will reportedly comment on the UK's equality law:
"Media reports indicate the head of the Catholic Church will not stray into overt criticism of the government which is hosting him, but he will suggest that Christians ought to be allowed the religious freedom to, for example, wear crucifixes at work. The comments are likely to stoke controversy over Britain's equality laws. Earlier this year, Chris Grayling faced outrage when he defended two Christian B&B owners who refused a room to a couple on the basis that they were gay."
A massive protest of the Pope is planned for this Saturday in London, supported by several gay and lesbian groups. Details HERE.