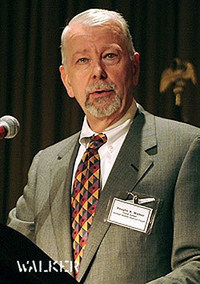 Judge Vaughn Walker, who declared California's Proposition 8 unconstitutional, announced today that he will step down from the bench in February of next year.
"Concluding 21 years of judicial service, I leave the bench with the highest respect and regard for the federal judiciary, its judges and their staff and the essential role they fulfill in our constitutional system," Walker, 66, wrote to President Obama.
Walker became a highly controversial figure during the trial, when right-wing opponents claimed he was gay and that he should therefore be removed from the same-sex equality case. Walker has never discussed his sexuality in public.
Gay, straight or somewhere in between, best of luck to you, Your Honor. And thank you for your years of dedicated, fair-minded service.