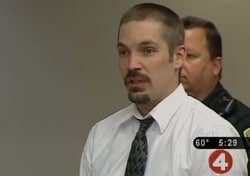 Some good news out of Springville, New York, where Joshua Holts has been sentenced to four years in prison for the vicious 2008 beating of a 47-year old gay man, Scott Wright.
Holts was caught on film beating Wright and hurling anti-gay epithets. Though police pursued the case as a hate crime, Judge Thomas Franczyk thought otherwise: he claimed that the beating was simply motivated by "anger, rage and ignorance," according to WIVB. The judge also lambasted Holts for "beating the hell out of this guy."
For his part, Holts blamed the crime on booze: I'm really not a bad person," he said. "I had too much to drink and made some bad decisions based on that, and I am sorry for."
Judy Wright, Scott's mother, appears to understand Holts' contrition, and remarked, "It's sad when you see a young man handcuffed and taken away." Still, she does believe Holts was motivated by hate: "After eight minutes, you felt the need to return to the victim and deliver some more blows to his already damaged head. This was a crime filled with hate that thankfully was all caught on camera."
What are you thoughts, reader? Has justice been done, or does Holt deserve a stiffer punishment?