Two men in women's clothing were found dead beside a road in Puerto Rico on Monday, the Canadian Press reports: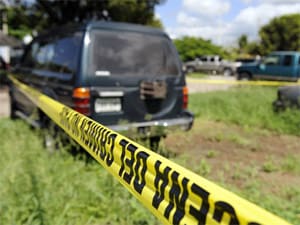 "A police officer discovered the victims, each one shot in the head, during a pre-dawn patrol in the city of Juana Diaz, according to a police statement. An unidentified 28-year-old man has been arrested and his car seized in connection with the case. Pedro Julio Serrano, the founder of the gay rights group Puerto Rico for All, said the island's laws obligate authorities to investigate whether the double slaying was motivated by the victims' sexual orientation or gender identity. Serrano said nine gay and transsexual people have been killed over the last 10 months in Puerto Rico, which has recorded a total of 682 slayings this year. He said authorities have not responded adequately to what he called a wave of crime targeting gays."
More (in Spanish) from Noti Uno.
(image source)