A waiter at Denny's in Santa Maria, California was stabbed last night after a man knocked on the restaurant's door (which was closed), asked to use the restroom, and then stabbed the waiter after asking if he was gay, the Santa Maria Times reports: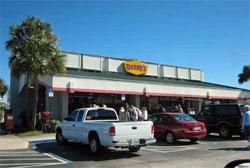 "Police responding to the call of battery at 3:28 a.m. found the victim, an adult man in his 30s, outside the restaurant at 1019 E. Main St. with a laceration to the side of his throat. He also had been stabbed in the side of his neck. The man was specifically targeted by 24-year-old Curtis Martin because of his perceived sexual orientation, police said. The victim was transported to Marian Medical Center by ambulance for treatment. 'The injuries were not life-threatening and he's expected to fully recover,' said Santa Maria police Lt. Dan Ast, noting that the knife did not pierce any vital body parts. Ast said that Martin knocked on the window of the restaurant, which was closed, and asked to use the restroom. He was let in and approached a group of Denny's employees sitting at a table. Martin asked the victim, a waiter, if he was gay and when the victim replied that he was, he was attacked, according to Ast. Martin used a knife he had brought with him, Ast said."
The perpetrator fled but was apprehended a short time later, the paper adds.