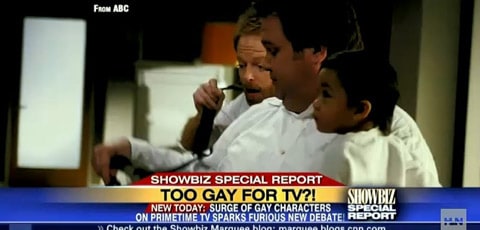 The way this Showbiz Tonight special segment is framed is pretty disgusting. And who the F is Charles Gainor of the Culture and Media Institute?
There's a "furious new debate" (see screenshot) about gays on TV? I guess I didn't get the memo.
Imagine if Showbiz Tonight did a segment questioning if TV was too Black, or too Jewish?
It's particularly nasty when you see that CNN is also running a poll, which seems to be related to this sensationalist piece, but stands alone, with no apparent connection on CNN's front page.
Watch the segment, AFTER THE JUMP…
UPDATE: CNN pulls poll at GLAAD request.