Just got word of this, happening at 2pm today on the north side of the White House, near Lafayette Park: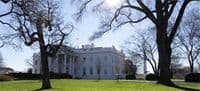 "GetEQUAL, a direct action lesbian, gay, bisexual and transgender (LGBT) civil rights organization will hold a rally outside the White House demanding that President Obama and Attorney General Eric Holder instruct the Department of Justice to not appeal a ruling late yesterday that the military's discriminatory 'Don't Ask, Don't Tell' law is unconstitutional.  The rally will also focus on urging Sen. Harry Reid (D-NV), Majority Leader of the United States Senate, to immediately bring up the Defense Authorization Act, which contains language that would start the process of repealing 'Don't Ask, Don't Tell.'"
The rally is also sponsored by Iraq Veterans Against War and local DC advocates supporting DADT repeal.