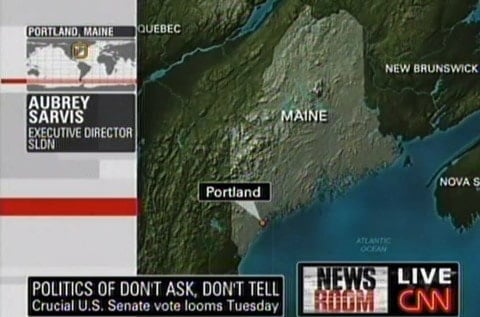 CNN has been covering the "Don't Ask, Don't Tell" vote set for this week and the rally headed by Lady Gaga scheduled for this after noon in Portland, Maine.
Watch, AFTER THE JUMP…
Meanwhile, the search for 60 votes continues, with moderates seeking concessions from Harry Reid:
"The vote for cloture on the defense authorization is set for Tuesday at 2:15 p.m. A 'yes' vote from 60 senators is required to move forward. The Republican caucus has reportedly been telling GOP senators not to vote for cloture on the defense authorization bill because Sen. Reid is allowing limited amendments on the legislation. The votes of Collins and Snowe are seen among repeal advocates as key to breaking a filibuster and moving forward with the defense authorization bill."