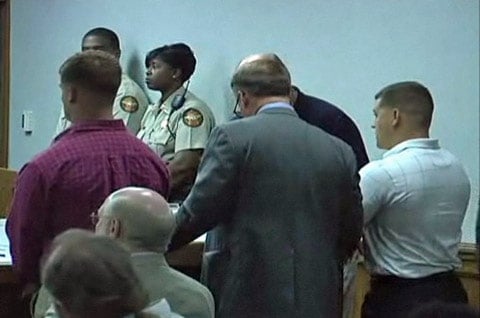 Lance Corporal Christopher Stanzel and Corporal Keil Cronauer, two U.S. Marines charged with beating a gay man unconscious in Savannah's Johnson Square on June 12 appeared in court yesterday. 
Cronauer, right above, had his battery charged dropped.
Savannah Now reports: "The case against Sgt. Keil Cronauer, 22, 'will definitely not go up as battery,' Chatham County Recorder's Court Judge Claire Cornwell-Williams ruled after a preliminary hearing. But the judge said she will review video of the scene to determine whether it will be a city or state disorderly conduct charge. Co-defendant Christopher C. Stanzel, 23, was sent to Chatham County State Court on the battery charge. 'Yours is a question of fact,' the judge told defense lawyer Steven Beauvais. Kieran Daly, 26, was struck from behind near the SunTrust Bank on Johnson Square on June 12. 'I don't know who struck me,' Daly testified today. Evidence today showed Cronauer did not attack Daly physically and was separated from his Marine friend at the scene."
It was announced in late August that the Marines would not face hate crime charges in the attack, which was allegedly inspired by the fact that they thought the victim winked at them.
Watch a fairly thorough look at yesterday's court proceedings, AFTER THE JUMP…