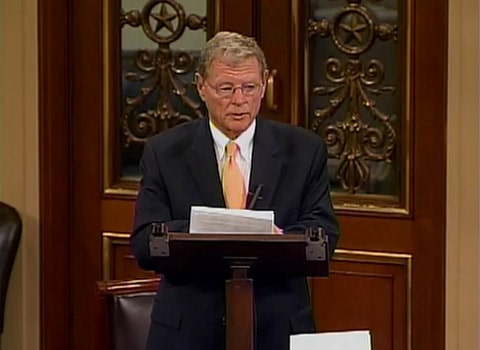 Senator James Inhofe (R-OK) speaks out against "Don't Ask, Don't Tell" repeal amendment inclusion in the DoD Authorization bill.
Watch, AFTER THE JUMP…
(via good as you)
In May, Inhofe said that soldiers would be less willing to fight and die for their country if they knew the guy next to them in the foxhole was gay.
You may also recall in 2006, Inhofe gave another speech on the Senate floor, showing a family portrait and expressing pride that his family had never had a gay or a divorce:
"As you see here, and I think this is maybe the most important prop we'll have during the entire debate, my wife and I have been married 47 years. We have 20 kids and grandkids. I'm really proud to say that in the recorded history of our family, we've never had a divorce or any kind of a homosexual relationship."