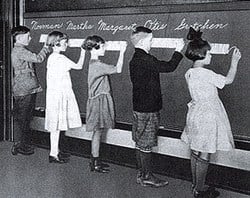 Recent media reports on the rise of anti-gay bullying and its fatal impact have helped spark a nationwide movement against discriminatory taunting.
Down in Alabama, for example, a father and truck driver named Jason Childs has thrown himself into the cause, which he's been following for a few months, and last week asked the state's Board of Education for some time to discuss anti-gay bullying.
The Board, however, refused his request.
Childs, a former Baptist minister with two children, isn't simply concerned with the homophobic aspect of this epidemic. He wants our nation's children to be prepared for a little thing called "reality."
"We're not preparing our kids for the real world," he said. "When these kids go out into the workplace, they're going to be working alongside people of all different backgrounds, but they can't learn to do that if we won't teach them."
Childs decided to help things along and asked the Board for some time to discuss tactics on curbing anti-gay bullying. While Alabama has anti-bullying legislation, it does not include LGBT-related incidents, so the Board holds the cards. Unfortunately, they're not playing: Childs received a letter last week denying his request.
Now Childs, who recently founded a group called Center for Progress Alabama, says more and more of his peers are concerned with anti-gay bullying. "Bullying and other issues of anti-gay discrimination kept coming up again and again [in discussions]," he explained. "It's something everyone wanted to talk about."
And, as the Anniston Star's Tim Lockette reports, this new-found attention puts conservatives, at least in Alabama, in an unfamiliar position: "In a conservative, Bible-Belt state, advocates say, administrators fear backlash from the public if they even mention the word "gay" in a non-negative light.  But Alabama administrators may soon have to deal with pressure from pro-gay parents, if recent trends are any indication." The tides are turning…