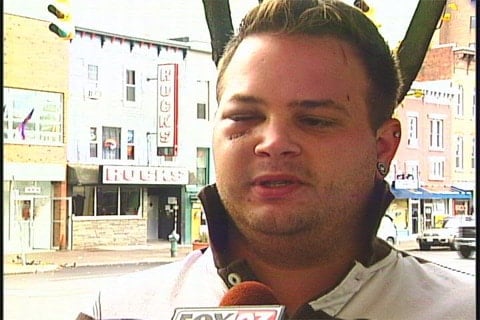 An Albany man says he was the victim of an anti-gay attack by a pizza shop employee:
"Vincent (Webster) said he spilled some parmesan cheese and that is when a confrontation ensued. I went to brush cheese off my clothes and one of employees goes you (expletive deleted), get the (expletive deleted) out of my bar, you are making a (expletive deleted) mess you stupid (expletive deleted), Webster said. Webster said as he was getting up to leave an employee punched him in the face. He knocked me in the face multiple times and two other employees working were screaming knock that (expletive deleted) out, Webster said. We did not egg them on, we dropped the cheese, Abby said. He provoked me, 20-year-old Jamil Karimi, who works at Yankee's Pizza, said."
Webster received six stitches, a black eye, and is concerned about the sight in one eye.
Watch, AFTER THE JUMP…