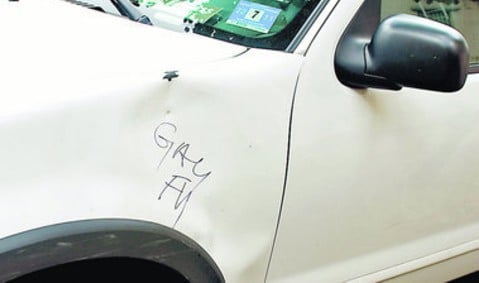 "This comes from a sad mentality. It was not an intelligent person who did this," said Jersey City Councilwoman Nidia Lopez about an anti-gay message, "Gay FU," left on her car.
Lopez discovered the vandalism, which also included a man-made dent, on Sunday, just after she and her peers celebrated the appointment of the city's first openly gay council member, Radames "Ray" Velazquez, and she thinks that ascension may be to blame.
Velazquez also expressed his disapproval, but insisted this kind of behavior is not indicative of Jersey City's general attitude, "Of course I'm saddened, but I don't believe it's representative of Jersey City because the reaction I've gotten has been nothing but that of support and love."
Mayor Jerremiah T. Healy, meanwhile, called the incident "another illustration of the closed-minded hatred of some segments of our society toward others."
Image via The Jersey Journal.