Earlier this week charges were dropped against three alleged assailants in the October 3 anti-gay gang attacks in the Bronx. Now, a fourth is let go, the NY Daily News reports: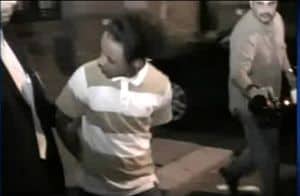 Dennis Piters, 17, became the latest teen freed from jail yesterday after the District Attorney's Office admitted there was "insufficient evidence" against him.
"How can they let them go after what happened to these poor people?" said a cousin of a 30-year-old gay man who, with two 17-year-olds, was viciously beaten and violated inside a dilapidated apartment in Morris Heights.
"Their friends sodomized them with a damn stick. These guys should be held responsible for the parts they played that day," the relative said. Let go Tuesday were Bryan Almonte,17, Steven Carabello, 17, and Brian Cepeda, 17.
Of the remaining seven Latin King Goonies gang members still implicated, four have been indicted and a grand jury is still hearing the case agains three of the others. Piters' lawyer, Fred Bittlingmaier, said his client simploy got caught up in a crowd of older toughs and deserved his freedom. "He wasn't there for the most serious accusations, Bittlingmaier said. "What the DA has done is commendable."
That's garbage, the 30-year-old victim's cousin said.
Six remain in jail on charges, with a seventh out on bail.