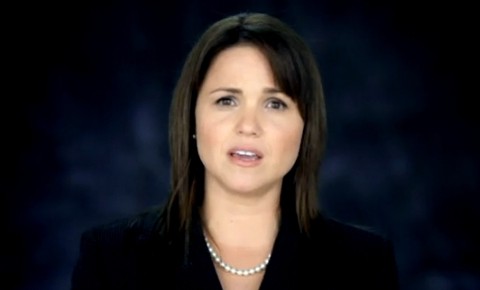 Anti-gay Senate candidate Christine O'Donnell released her first campaign commercial last night. In what appears to be a shrewd move, O'Donnell opens by playing off of the infamous news that she dated a Wiccan. "I'm not a witch," begins O'Donnell, setting the viewer up for laughs, which would be a great way to charm voters.
Unfortunately for our funny bones, O'Donnell's pitch gets into serious territory, with the Republican from Delaware telling voters, "I'm nothing you've heard. I'm you. None of us are perfect, but none of us can be happy with what we see all around us: politicians who think spending, trading favors and back room deals are the ways to stay in office. I'd go to Washington and I'd do what you do."
Well, that's not really true, because I would guarantee LGBT equality in Washington, and clearly O'Donnell has no such thing on her agenda.
Watch O'Donnell's ad, AFTER THE JUMP.