Part Two: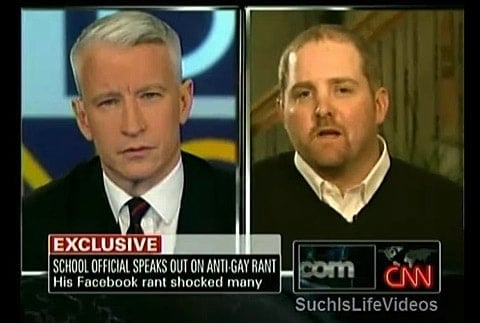 UPDATED
Midland School Board Member Clint McCance told Anderson Cooper that he is resigning from the school board following a firestorm of outrage over remarks he made on Facebook celebrating the suicides of teens who killed themselves after homophobic bullying.
Said McCance: "I am going to resign from the school board. It is to — to help my community, to help my school. I don't want them to receive bad press or have a distraction because of some ignorant comments that have — that I made. If they decide later, you know, a year, five years, 10 years from now to vote me back in, if my constituents want that, then — then I will run again."
Added McCance: "I — you know, I would — would like to extend an apology, especially to those to those — to those families that have lost children, not just gay, heterosexual, all — all children that feel like suicide's the only way out. 
It's a — it saddens me, and — but especially for those five — five families that have just recently lost children. You know, I have — I have brought more hurt on them with these comments. And that was never my intention. And I apologize for that, because they don't — they don't deserve that. And I do feel genuinely bad for that, for them."
Cooper also spoke with the parents of Asher Brown, a 13-year-old who killed himself as a result of bullying in September. Brown's parents had a message for McCance as well.
Watch, AFTER THE JUMP…
Previously…
Protesters Call for Resignation of Clint McCance [tr]
Anderson Cooper Rips Clint McCance [tr]
Arkansas Midland School District Distances Itself [tr]
Watch: Thomas Roberts Talks to Arkansas Times Reporter [tr] 
Arkansas School Board Member Clint McCance Wants 'Fags' Dead [tr]