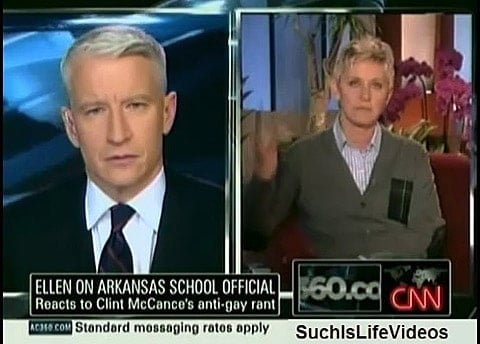 Following Anderson Cooper's interview with Arkansas School Board Member Clint McCance, who resigned over remarks he made on Facebook attacking gays and celebrating the deaths of gay youth who commit suicide, Ellen DeGeneres appeared on AC360 to discuss McCance and anti-gay bullying.
Said DeGeneres of McCance's homophobic rants:
"If we allowed this to happen from someone like him, then we — what message does that send to a kid? What message does that send to a child in school that says, 'Well, you know, he's saying it, why can't we say it? And we want them to die, too.' I mean, it sends a horrible message."
DeGeneres added:
"It would not be acceptable if someone used the N-word. When the civil rights movement happened, it took not just the community of blacks to make a change, but white people needed to step in and say this is unacceptable. We cannot tolerate this and treat any citizen with lesser value. And, I think, as a gay person, I would like to personally ask every heterosexual person out there who is appalled by this to – we need your help now. This is — this is — this is absurd. "
Watch, AFTER THE JUMP…