The Justice Department plans to appeal Judge Virginia Phillips' ruling barring enforcement of "Don't Ask, Don't Tell", the NYT reports, in an editorial criticizing the planned move: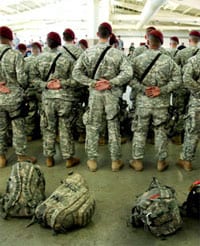 "The original rationale for 'don't ask, don't tell' was that it would enhance unit morale and cohesion — and thus military preparedness — by shielding heterosexual soldiers from any knowledge that some of their colleagues were gay. That rationale has not held up in the real world. The judge found that the military has routinely delayed investigations and discharges until suspected homosexuals completed their deployments on combat missions. Their service was deemed vital in the war zones, not detrimental. Now that the administration is expected to appeal Judge Phillips's ruling unnecessarily, we hope the appeals court lets it take force immediately. It is unfair to persecute valued service members under an outmoded and harmful law that should have been scrapped long ago."
CNN also reported yesterday that the administration was ready to appeal.
And, from the L.A. Times, the first hint of information from the troop surveys that have been conducted in the past few months, noting "deep resistance" to lifting the ban from combat forces:
"The Pentagon task force charged with examining the issue is 'well along' in formulating recommendations, and the ruling is not expected to affect its work, another senior military officer. The task force found deep resistance to the idea of repealing the law in some elements of the armed services, especially within the combat units, an officer familiar with the findings said. But the surveys also have found segments of the military who were not overly worried about allowing gays and lesbians to serve, the officer said."