The Department of Justice today filed a request for a stay against the injunction issued by Judge Virginia Phillips barring enforcement of the military's "Don't Ask, Don't Tell" policy pending the case's appeal to the Ninth Circuit.
MetroWeekly reports: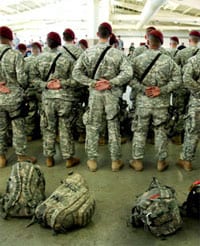 Christian Berle, deputy executive director of LCR, told Metro Weekly prior to the filing, "Attorneys from White and Case have been in contact with [Department of Justice Civil Division Attorney] Paul Freeborne this afternoon (morning in Los Angeles), where Freeborne indicated DOJ's intent to file a request for a stay pending appeal from Judge Phillips in District Court."
Berle continued, "If Phillips denies that request, they intend to ask for an administrative stay while she considers their motion for a stay. If Phillips denies that ruling, they will make a request for an emergency stay from Phillips so that they can request a stay from the Ninth Circuit."
Said Berle in a press release from the LCR:
"After years of fighting this lawsuit, Log Cabin Republicans expected that the Obama administration would continue to pull out all the stops to defend 'Don't Ask, Don't Tell.' Log Cabin Republicans will continue to advocate on behalf of the American servicemembers who everyday sacrifice in defense of our nation and our Constitution.  If this stay is granted, justice will be delayed, but it will not be denied.  Meanwhile, we urge Senate Majority Leader Harry Reid to do what it takes in the lame duck session to end 'Don't Ask, Don't Tell' legislatively.  If Senator Reid treats the minority party fairly, the votes will be there to end 'Don't Ask, Don't Tell' once and for all."
Added Dan Woods, White & Case partner who is representing Log Cabin Republicans:
"We are not surprised by the government's action, as it repeats the broken promises and empty words from President Obama avowing to end 'Don't Ask, Don't Tell' while at the same directing his Justice Department to defend this unconstitutional policy. Now that the government has filed a request for a stay, we will oppose it vigorously because brave, patriotic gays and lesbians are serving in our armed forces to fight for all of our constitutional rights while the government is denying them theirs."  
During a briefing with reporters Wednesday morning, White House press secretary reiterated the president's belief that the law is "unjust" and "detrimental to our national security" but also reinforced his preference for ending the policy legislatively.
"The president has implemented a process with the Department of Defense, with the secretary of Defense, with Admiral [Michael] Mullen and the other members of the Joint Chiefs to move forward in implementing an end to this policy in an orderly way," Gibbs said. "The best way to end it is for the Senate to follow the lead of the House of Representatives so that that end can be implemented in a fashion that's consistent with our obligations in fighting two wars."