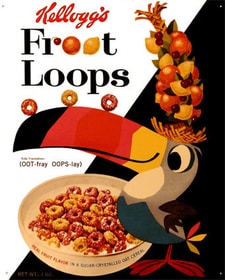 Taking on anti-gay activists can become a bit of a drag: you call, you write, you email, and yet you hear nothing. Boring.
Well, in the wake of North Carolina State Rep. Larry Brown's recent homophobic email in which he called gay people "queers" and "fruit loops," LGBT group Equality NC has announced it will make activism a bit more fun by bringing Brown a box of Froot Loops cereal and a personalized note for every donation over $5 received between today and next Monday, October 11th.
"It's a fun way to get the message across that this is not acceptable from a legislator," said the group's executive director, Ian Palmquist.
The group has already raised more than $2,000 since announcing its cereal-centric tactic, and any food Brown turns away will be donated to a local food shelter.  
So, just to get this straight: a five-buck donation yields a stern, yet enjoyable disapproval of Brown's homophobia and could help feed a hungry American. What could be better?