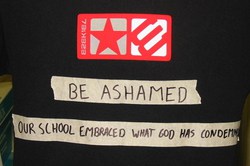 The "ex-gay" group Exodus International announced today that it will no longer participate in the anti-equality "Day of Truth," dealing the social conservative movement a small but important blow.
Founded in 2005, the Day of Truth is the right wing's way of countering the Gay, Lesbian and Straight Education Network's Day of Silence, an annual event started in 1996 to combat anti-gay bullying and violence in schools.
Conservatives calls the Day of Silence "the promotion of homosexual behavior" and use the Day of Truth to oppose it "from a Christian perspective," which apparently includes calling homosexuality "shameful." In light of recent gay suicides, Exodus has decided that DOT's perspective has become too incendiary.
"All the recent attention to bullying helped us realize that we need to equip kids to live out biblical tolerance and grace while treating their neighbors as they'd like to be treated, whether they agree with them or not," explained Exodus president Alan Chambers to CNN's Dan Gilgoff.
"I don't think [the event is] necessary anymore," said Chambers. "We want to help the church to be respectful of all its neighbors, to help those who want help and to be compassionate toward people who may hold a different worldview from us." Regardless of the group's new approach, Exodus still claims it can "cure" people of homosexuality, a dangerous idea in and of itself.
Though the move may seem small, Exodus has always been a huge supporter for Day of Truth, and the relatively short time line — five years — it took for one of this hateful event's biggest champions to switch gears provides a glimmer of hope that people are starting to realize that extreme social conservatism isn't sustainable. Or will this simply ostracize Exodus from the social conservative movement at large?
Either way, GLSEN executive director Eliza Byard applauded Exodus' decision: "I thank Exodus for making this very important step. The Day of Truth was an effort to push a very specific set of opinions about homosexuality into schools in a way that was inappropriate and divisive."
If Chambers and company were really serious, however, they would sign up with GLSEN's Day of Silence. Isn't solidarity the ultimate expression of "do unto others?"