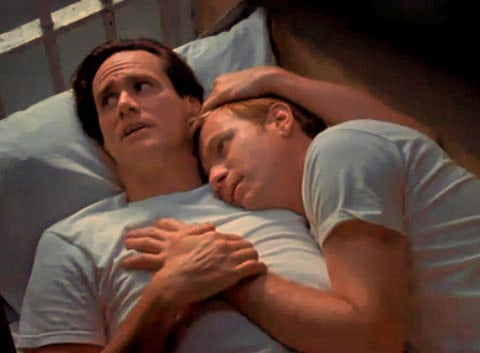 I think I've been following the news of this film for more than three years now. After a rocky road to distribution, it's finally making it to screens in limited release on December 3rd, to expand throughout the month. 
This morning I present the exclusive debut of the red band trailer for the film (warning: it has a couple brief moments that are probably not safe for work).
Here's the plot synopsis from the filmmakers (it's based on a true story): "Steven Russell (Jim Carrey) leads a seemingly average life — an organ player in the local church, happily married to Debbie (Leslie Mann), and a member of the local police force. That is until he has a severe car accident that leads him to the ultimate epiphany: he's gay and he's going to live life to the fullest — even if he has to break the law to do it. Taking on an extravagant lifestyle, Steven turns to cons and fraud to make ends meet and is eventually sent to the State Penitentiary where he meets the love of his life, a sensitive, soft-spoken man named Phillip Morris (Ewan McGregor). His devotion to freeing Phillip from jail and building the perfect life together prompts him to attempt (and often succeed at) one impossible con after another."
It's based on the book of the same name by Steve McVicker.
Watch (warning: brief nsfw moments), AFTER THE JUMP…