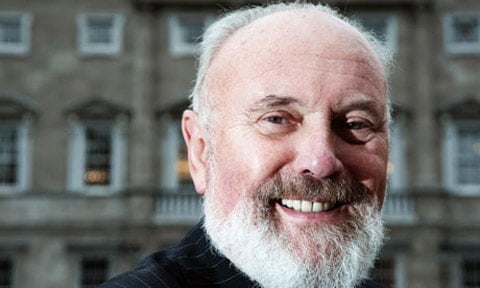 David Norris, an openly gay James Joyce expert and former academic, credits Facebook for his decision to run, and now leads in the polls, the Guardian reports:
The current frontrunner to succeed Mary McAleese as head of state in the Irish Republic admits that it was a Facebook campaign that prompted him to step forward for the presidency.
Two recent opinion polls have put the independent senator David Norris ahead of all other possible candidates. His election next autumn would mark an astonishing change in a country once regarded as one of the most conservative Catholic nations in Europe.
Inside a cramped office in the Irish parliament, and surrounded by 200 boxes of correspondence he is about to hand over to the Irish national archives, Senator Norris tells the Guardian he put his name forward only after hearing of a Facebook group with nearly 1,000 members calling for him to stand.
"I've started very early in response to the Facebook campaign," Norris laughs.
Norris says his sexuality won't be an issue in the campaign: "It's a non-issue with the people of Ireland. Some may have some concerns, and I hope I am able to address them. I have just had a major radio interview in Dublin and the interviewer asked me about it, and people came on the programme to say 'Will you get out of that? What does it matter! We want someone with vision … someone who is independent.' The only person who said they would not vote [for] me live on air was a gay man. He rang in to say it was great that a gay man was standing for the presidency but that I was far too leftwing for him. I respect that man because he has parked what he sees as an irrelevant issue and instead goes on to analyse what I stand for."