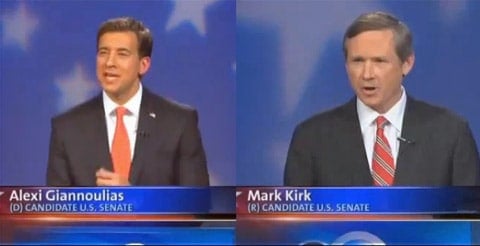 Illinois Senate candidates Alexi Giannoulias and Mark Kirk squared off on Wednesday night (images not from last night's debate) in Chicago, and touched on gay rights, Chicago Pride reports:
"Ponce asked the candidates if they supported gay marriage or civil unions. Kirk said he supported civil unions, and Giannoulias said he supported both."
They were also asked about DADT.
Giannoulias has expressed his interest in full immediate repeal before. Kirk, a 21-year-Navy vet who has been accused of being a closeted gay man several times during the campaign had more to say: 
"I think we should wait for the Joint Chiefs of Staff to report as they are scheduled in December; this was actually the recommendation of Defense Secretary [Robert] Gates and the President. But Speaker [Nancy] Pelosi wanted to move forward anyway…The problem here is that when you remove a policy, you have to have a new policy. I look at this from the perspective of a 1st sergeant running a platoon or a chief running a department on a ship. The first thing they are going to ask is, 'If I have problems, what am I supposed to do?'"
Kirk also reportedly criticized Obama for his handling of the issue, and said that he did not know a single openly gay service member in his 21 years in the Navy.