David Bahati, the main sponsor of Uganda's "kill the gays" bill tells CNN that he is "very confident" that the piece of legislation will "soon" become law in that country. He claims that it "is needed in this country to protect the traditional family here in Africa, and also protect the future of our children."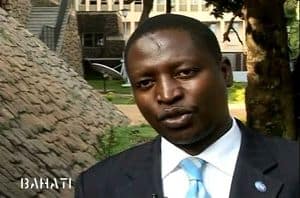 Meanwhile, the US magazine Rolling Stone has come out against the article published in the Uganda tabloid of the same name calling it "one of the most vile and hateful anti-gay screeds we have ever read." They have also requested the hateful rag stop using its name. Four people in that country have been attacked since the publication of that issue which called for gays and lesbians to be hanged.
Lesbian Stosh Mugisha's name was included on that list and was one of those who was close to losing her life. CNN reports:
On the day that the tabloid was published, people started pointing at her and commenting, she says. Late that night, a crowd gathered outside her house. "People were throwing stones through gate," says Mugisha, "they were shouting, 'Homosexual homosexual!' I started getting scared." Mugisha and her partner of one year had to flee their house the next morning, narrowly escaping stoning. Now they are in hiding. They start bringing in these issues like, 'How can you be born gay? How can you be born lesbian?' They really don't know that we have battled to stand and be who we are," Mugisha says.
Watch CNN interview Giles Muhame, the editor of the Ugandan Rolling Stone, AFTER THE JUMP. Disturbingly, Muhame very seriously makes a claim that homosexuality is worse than terrorism.