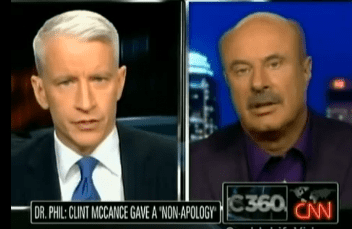 On Anderson Cooper's 360, Dr. Phil dissected Cooper's interview with Clint McCance in which the Arkansas school board member "apologized" for his hateful Facebook posts. Dr. Phil's conclusion: "This isn't really an apology." 
He added: "My concern is that, because this is getting so much attention….the downside of it is that gay, lesbian transgender and questioning youth right now can say 'see that's how they really feel' and we drive them further back."
Watch the breakdown of the "apology," AFTER THE JUMP.