Two years ago I posted about the murder of Milton Lindgren, 70, and Eric Hendricks, 73, who were found dead inside their Indianapolis home. Today, their killer Michael Brown was sentenced to 120 years in prison: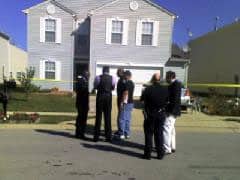 "Hendricks and Lindgren were found beaten to death at their south side home in October 2008. Brown fled to California but was later found and brought back to Indiana. Brown was caught using Hendricks credit cards in 2008. Investigators think Brown may have killed them when the fraud came to light."
The Indy Star reports: "Brown was arrested in California a month after the killings. He was one of two men who discovered the victims' bodies. But he wasn't arrested until police had pieced together a circumstantial case showing Brown had used Hendricks' credit cards to purchase furniture and other items and had changed Hendricks' mailing address in the months before the killing. At the time, prosecutors said Brown might have killed the victims to silence them after his fraud was discovered. Another key piece of evidence in the trial was the testimony of a jail inmate who wrote a letter to police reporting detailed information connecting Brown to the case."