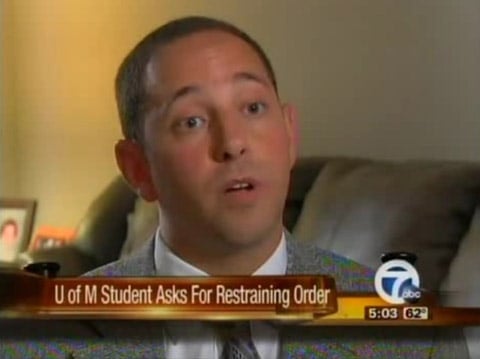 University of Michigan student body president Chris Armstrong has dropped a restraining order against Assistant Attorney General Andrew Shirvell, who was set to appear in court today over the request.
"Armstrong requested it be dismissed because Shirvell "has not contacted me since service of the petition on him," court documents say. They were scheduled to be in court at 1:30 p.m. today for a hearing on the request. Washtenaw County Family Court Judge Nancy Francis dismissed the petition this morning. Armstrong, who the university's first openly gay student body president, filed the request after Shirvell launched a blog attacking him for his "radical homosexual agenda" and started showing up at various events and outside his house to protest and heckle him. Armstrong and his attorney couldn't be reached this morning for comment."
In an interview, Shirvell callsaid that Armstrong is "promoting a satanic lifestyle." Shirvell is on a leave of absence from the AG's office.
Watch, AFTER THE JUMP…