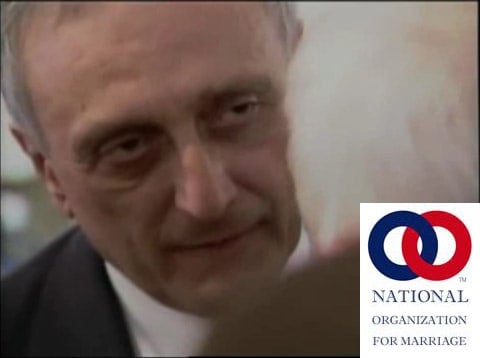 The National Organization for Marriage has been blocked from running ads in support of anti-gay teabagger gubernatorial candidate Carl Paladino, WIVB reports:
"Federal Judge Richard Arcara has rejected a challenge to New York's election law from the National Organization for Marriage. The group wanted to run its pro-Paladino ads without reporting the names of its donors. In New York, the group would be required to register as a political committee, and election law requires a political committee report the names of its donors. The group wanted the judge to rule the law unconstitutional, but Judge Arcara ruled against the group, calling the case pre-mature."
"The lawsuit had asked the judge to declare the political committee definition unconstitutional because it would interfere with NOM's free speech rights by imposing so many burdens that it wouldn't be worth it to NOM to run the ads. New York requires a political committee to register its treasurer and bank and submit periodic disclosure reports. NOM, a major financial backer of campaigns opposing same-sex marriage, has said it wants to use radio and TV ads and direct mailing in governor races and legislative elections in New York and elsewhere. It's pursuing similar legal challenges in several other states."