The Advocate's Kerry Eleveld gets wind of a White House meeting on DADT set to take place today: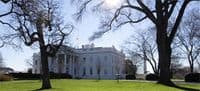 "'The White House is meeting with several interested parties to discuss the legislative repeal of 'don't ask, don't tell.' The meeting will concern the work that remains to be done to ensure Congressional action on this issue this year,' said the official, who spoke on the condition of anonymity. The official declined to name any participants of the meeting, but sources tell The Advocate that senior White House advisor Valerie Jarrett and deputy chief of staff Jim Messina are expected to be present."
Eleveld says the meeting will concern legislative repeal during the lame duck session of Congress.
Lez Get Real has a few more details: "The White House is meeting with a variety of groups which have a stake in its repeal including Servicemembers United, Servicemembers Legal Defense Network and OutServe."