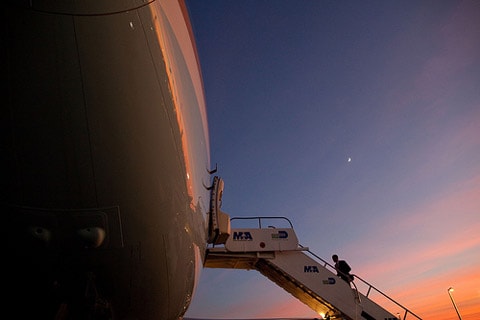 (official White House photo by Pete Souza)
Yesterday I posted about the meeting President Obama had with progressive bloggers, one of whom was Americablog's Joe Sudbay. Sudbay last night posted a more complete transcript of their conversation.
Here's an interesting bit on same-sex marriage:
Q So I have another gay question. (Laughter.)
THE PRESIDENT: It's okay, man. (Laughter.)
Q And this one is on the issue of marriage. Since you've become President, a lot has changed. More states have passed marriage equality laws. This summer a federal judge declared DOMA unconstitutional in two different cases. A judge in San Francisco declared Prop 8 was unconstitutional. And I know during the campaign you often said you thought marriage was the union between a man and a woman, and there — like I said, when you look at public opinion polling, it's heading in the right direction. We've actually got Republicans like Ted Olson and even Ken Mehlman on our side now. So I just really want to know what is your position on same-sex marriage?
THE PRESIDENT: Joe, I do not intend to make big news sitting here with the five of you, as wonderful as you guys are. (Laughter.) But I'll say this —
Q I just want to say, I would be remiss if I didn't ask you this question. 
THE PRESIDENT: Of course.
Q People in our community are really desperate to know.
THE PRESIDENT: I think it's a fair question to ask. I think that — I am a strong supporter of civil unions. As you say, I have been to this point unwilling to sign on to same-sex marriage primarily because of my understandings of the traditional definitions of marriage.
But I also think you're right that attitudes evolve, including mine. And I think that it is an issue that I wrestle with and think about because I have a whole host of friends who are in gay partnerships. I have staff members who are in committed, monogamous relationships, who are raising children, who are wonderful parents.
And I care about them deeply. And so while I'm not prepared to reverse myself here, sitting in the Roosevelt Room at 3:30 in the afternoon, I think it's fair to say that it's something that I think a lot about. That's probably the best you'll do out of me today. (Laughter.)
Q It is an important issue, and I think that —
THE PRESIDENT: I think it's an entirely fair question to ask. 
Q And part of it is that you can't be equal in this country if the very core of who you are as a person and the love — the person you love is not — if that relationship isn't the same as everybody else's, then we're not equal. And I think that a lot of — particularly in the wake of the California election on Prop 8, a lot of gay people realized we're not equal. And I think that that's — that's been part of the change in the —
THE PRESIDENT: Prop 8, which I opposed.
Q Right. I remember you did. You sent the letter and that was great. I think that the level of intensity in the LGBT community changed after we lost rights in that election. And I think that's a lot of where the community is right now. 
THE PRESIDENT: The one thing I will say today is I think it's pretty clear where the trendlines are going.
Q The arc of history.
THE PRESIDENT: The arc of history.
There are two more questions from Sudbay on DADT over at Americablog Gay, and a transcript of the entire session on the main Americablog site.