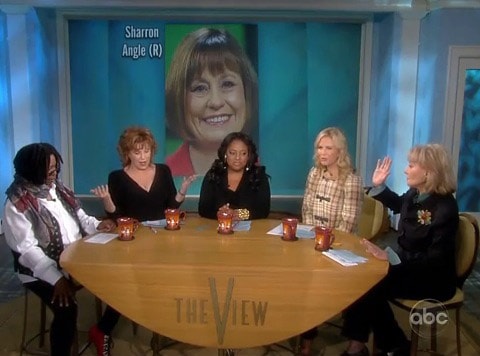 Didn't get a chance to post this yesterday. Nevada Tea Party House candidate Sharron Angle sent Joy Behar flowers and a note saying she'd raised $150,000 after Behar criticized her racist commercial and told her to bring it to the Bronx.
Says Behar: "I'd like to point out that those flowers were picked by illegal immigrants. And they're not voting for you bitch."
In related news, the HuffPost this morning pulls some audio from an Angle event earlier this month in which the teabagger laments the "wicked ways" of social programs, abortion, and gay marriage:
"I confess that we are a nation who has killed our children. I confess that we are a nation who has walked away from the family and allowed divorce even among our ranks. We have walked away from the biblical definition of marriage; one man, one woman, the two become one flesh. We as a nation have been walking away from our constitutional freedom and relying on government instead to take care of the widow and the orphan…we're saying 'well, the government we have all these programs now, aid for families with dependent children and medicare and social security."
Watch, AFTER THE JUMP…