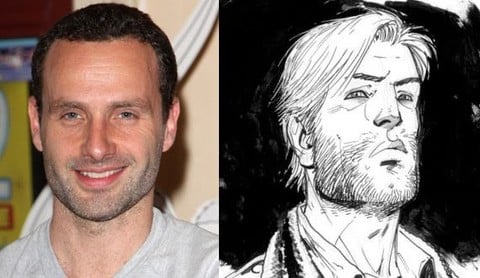 In anticipation of AMC's new series, The Walking Dead, I spent a good chunk of my weekend reading the Robert Kirkman-written Image Comics graphic version, which follows police officer Rick Grimes' journey through a Zombie-ridden world.
As I look forward to the show, and more installments of the comic, I'm wondering if any one out there's pondering what I am: Is real life actor Andrew Lincoln as attractive as artist Tony Moore's original rendition of the fictional character? Follow-up question: Am I strange for finding an imaginary comic book character attractive?
And, finally, a recommendation: read The Walking Dead. Sure, there are some zombie cliches, but it's actually a truly compelling book. So, too, is DC's Scalped, which also deserves to be made into a series, although would need the adult-ready ratings available at HBO or Showtime.
UPDATE: I just read issue #36 of Scalped and see it's getting into gay territory. How will [censored] survive on the reservation as a gay man?