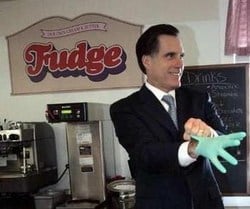 Republican leader and practicing Mormon Mitt Romney tried to skirt gay scandal yesterday by avoiding a question about Mormon Leader Boyd Packer's recent remarks that gays choose to be "immoral." According to Romney, he can't get involved because his public and pious identities remain distinct and separate.
"I still consider myself in the public arena, and as such I just don't delve into matters of faith and my religion and doctrines of my church, whether it's to try to explain it to other people or ascribe my own personal beliefs," said Romney after being asked to respond to Boyd's comment.
It's strange that Romney would say such a thing, because during his 2008 Presidential campaign, the former Massachusetts Governor bent over backward trying to convince conservative religious voters he was on their side. Now Romney, who many suspect will try for the White House again in 2012, wants to play coy about where his personal politics fit in relation to his fellow right-wing Mormons?
One thing Romney did make clear, however: he's still against marriage equality. "I fully support the rights of gay individuals to choose their course in life, their careers in life, to have civil rights that are consistent with other citizens of the nation," said the politico. "[But] as you know, I support traditional marriage. I believe that it is in the best interest of society, and at the same time I fully support the rights of gay individuals and homosexuals."
Hmmm, for someone who doesn't want to discuss his religion, he sounds a lot like Packer…