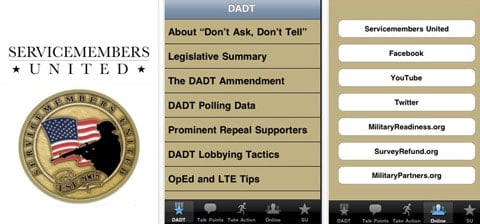 Serveicemembers United has released an iPhone app to help facilitate repeal of the military's "Don't Ask, Don't Tell" policy.
The group writes:
"Servicemembers United's 'Repeal DADT' iPhone application provides users with a wide array of current information on the status of DADT, facts and talking points, extensive polling data on gays in the military, and links to DADT-related social media sites and ongoing online campaigns. The app also provides contact information for the senate offices of each state and incorporates tap-to-call functionality, allowing users to call their senators' offices directly from the app. More functionality and features will be added in subsequent updates. This development and release of an iPhone application as a political advocacy tool is a first for an LGBT organization. Another application was released in 2009 that displays the rankings of private corporations with respect to LGBT equality, but that application contained no political advocacy functionality."
To download the app, go to the iTunes app store and search 'Repeal DADT'.