South Korea's Human Rights Commission says punishing gays in the military violates soldiers' rights, AFP reports: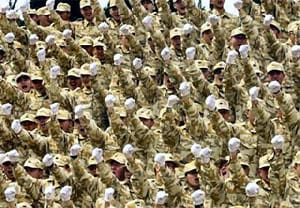 Under the current code, homosexuality among servicemen is punishable by up to one year in jail. The constitutional court is reviewing the issue following a request from a military court. The rights commission met this week to agree a position to deliver to the court next month. It said its majority opinion is that the law infringes gay soldiers' rights to equality, privacy and to choose a sexual preference. 'Homosexuality does not directly weaken combat capability, morale or unity,' the rights panel said in a report. 'Punishment by the military criminal law is against the current of the times because it infringes upon (soldiers) rights to equality.' There were 176 homosexuality cases in the military from 2004-2007 and three male soldiers were convicted, it said."
The commission also cited Canada, Australia and Israel as nations where gays can serve openly.