Stephen Slater pleaded guilty today to one count of felony attempted criminal mischief and one count of misdemeanor criminal mischief for his August emergency slide escape from a JetBlue aircraft at JFK.
NBC New York reports: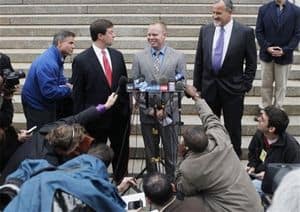 Outside of Supreme Court in Kew Gardens, Queens, Slater said "While the public interest was surprising for me, at the end of the day I am a grown-up. I must accept responsibility for my actions."
Queens District Attorney Richard Brown said of the plea: "I believe the defendant has finally recognized the seriousness of his actions…under the circumstances, the disposition fairly balances the seriousness of the charges against the need for the defendant's rehabilitation."
Under terms of the agreement, if Slater completes the program and counseling, and gets in no further trouble, he would be permitted to withdraw the felony plea next year. It would be replaced with a misdemeanor conviction at that time.
Should Slater fail to adhere to the terms of the deal, his sentence would revert to the full prison term and he would be forced to serve the one to three years.