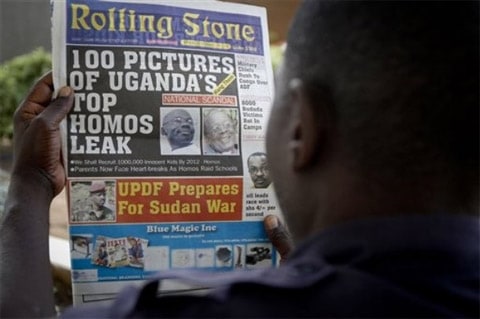 The Ugandan tabloid Rolling Stone this week published the names and addresses of 100 "top homos" and called for them to be hanged, in a front page story, the AP reports:
"In the days since it was published, at least four gay Ugandans on the list have been attacked and many others are in hiding, according to rights activist Julian Onziema. One person named in the story had stones thrown at his house by neighbors.
….
The Oct. 9 article in a Ugandan newspaper called Rolling Stone – not the American magazine – came out five days before the one-year anniversary of the controversial ("kill the gays") legislation. The article claimed that an unknown but deadly disease was attacking homosexuals in Uganda, and said that gays were recruiting 1 million children by raiding schools, a common smear used in Uganda.
After the newspaper hit the streets, the government Media Council ordered the newspaper to cease publishing – not because of the newspaper's content, but rather that the newspaper had not registered with the government. After it completes the paperwork, Rolling Stone will be free to publish again, said Paul Mukasa, secretary of the Media Council.
That decision has angered the gay community further. Onziema said a lawsuit against Rolling Stone is in the works, and that she believes the publication has submitted its registration and plans to publish again.
According to the AP, the tabloid is relatively new and only publishes about 2,000 copies, but that hasn't stopped it form causing havoc since the article's publication:
The paper's managing editor, Giles Muhame, said the article was "in the public interest."
"We felt there was need for society to know that such characters exist amongst them. Some of them recruit young children into homosexuality, which is bad and need to be exposed," he said. "They take advantage of poverty to recruit Ugandans. In brief we did so because homosexuality is illegal, unacceptable and insults our traditional lifestyle.'
Members of the gay community named in the article faced harassment from friends and neighbors. Onziema said the proposed bill already has led to evictions from apartments, intimidation on the street, unlawful arrests and physical assault.
The "kill the gays" bill introduced by MP David Bahati is said to have been "quietly shelved" but the animus toward gays, it appears, is still very active.