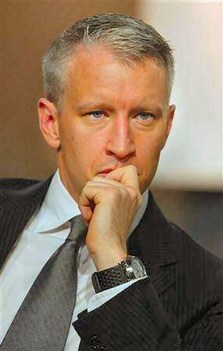 Earlier this week, while discussing anti-gay bullying with Ellen DeGeneres, CNN's Anderson Cooper voiced his disapproval of a line in the trailer for an upcoming Vince Vaughn movie, The Dilemma.
"Do you find it surprising that people still tell gay jokes? I mean, that people still use the 'F' word, that people still use that term, you know, 'Oh, that's so gay?'" Cooper asked DeGeneres, before offering his personal take: "I went to a movie theater this weekend, and a preview for a new movie, a new Vince Vaughn movie, in the preview, he uses the term. And it just shocked me that not only would they put this in the movie but that they would put this in the preview, that they didn't even think this might offend some people."
Cooper concluded, "I think it should offend a lot of people."
Though Cooper's comment went unnoticed for a few days, the news blew up this morning, leading Universal Pictures to hastily yank Vaughn's line, "Ladies and Gentlemen, electric cars are so gay," from the trailer.
The studio released the following statement, "The teaser trailer for The Dilemma was not intended to cause anyone discomfort. In light of growing claims that the introduction to the trailer is insensitive, it is being replaced. A full trailer, which has been in the works for some time, will post online later today."
Gay group GLAAD has been catching some heat for allegedly having seen and approved of the trailer. The group, however, insists it asked Universal to remove the scene. The studio clearly didn't listen, and it took Cooper to get the job done. Is this more proof Cooper, who just confirmed a daytime show, will be the next Oprah?