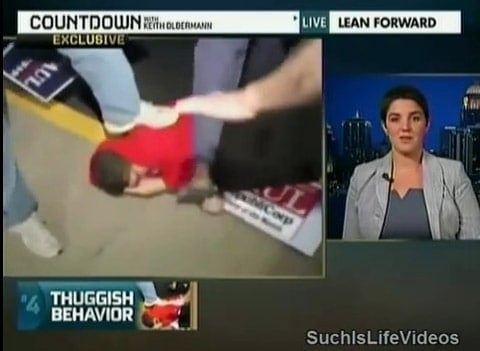 Last night Keith Olbermann interviewed Lauren Valle, the MoveOn activist who was attacked by Tea Party activists and Rand Paul supporters at a debate in Lexington on Monday night. Valle describes her work with activist group RepubliCorps, how she was pursued before the attack and pulled down in the parking lot. Valle calls the attack "premeditated."
Meanwhile, the stomper has been identified as Rand Paul volunteer campaign coordinator Tim Profitt:
"Paul's campaign dropped Profitt as campaign coordinator in Bourbon County in central Kentucky and banned him from future events. Lexington Division of Police spokeswoman Sherelle Roberts said Tuesday that officers will deliver a summons to Profitt to appear in court. A judge will determine whether to proceed with an assault case. Profitt said the fight never would have occurred if police officers had intervened earlier. 'A friend of mine went up to three policeman before Rand got there, and told them about the girl who was standing there with that wig on and that she was getting ready to do something,' Profitt said. 'The policemen looked at him and said that's not our job.' Paul campaign manager Jesse Benton said Profitt's actions were unacceptable and would not be tolerated."
The Paul supporter who wrestled Valle to the ground has been identified as Tea Party activist Mike Pezzano.
Watch Olbermann's interview, AFTER THE JUMP…