A gay detective facing an internal affairs probe is suing the NYPD, saying the probe is retribution for complaints about being repeatedly harassed, the NY Daily News reports: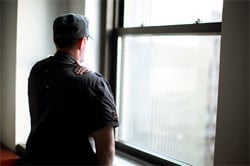 The Manhattan Supreme Court suit details a series of vile antics that the detective says have haunted him since his academy days, when others learned he was gay.
His complaint says supervisors and cops at the 103rd Precinct in Jamaica taunted him and wrote "PO Snitch" on his locker when he first complained. In May 2007, he asked to be – and was – transferred to Internal Affairs.
Once there, the suit alleges, a sergeant taunted him as a "meat gazer" by placing two apples near his crotch and another time by pretending to pleasure a banana.
"[Internal Affairs] is supposed to be the last bastion of upholding the law," said Derek Smith, the detective's lawyer. "This just makes you lose faith in the system."
In August 2008, the suit says, he was transferred to a "very undesirable" parking permits job, where he was hammered with an "overly burdensome work load" and drew stares from a supervisor.
Last year, he was charged with illegally duplicating his patrolman's shield. The detective said his ex-cop dad wanted to use the shield on a plaque marking his son's promotion.
The suit also says the NYPD last year revealed the names of cops attending a gay officers' conference in a message sent to every precinct.
"You had a lot of p—-d-off guys that day because they're still in the closet," he said.
The detective has filed the suit as John Doe.